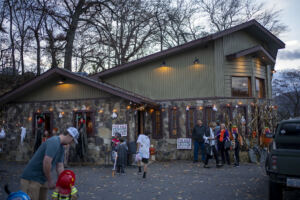 Hundreds of people of all ages converged on Main Street in search of fun and candy during Robbinsville's Halloween Trunk or Treat event Monday, October 31, 2022.  Southland Realty was delighted to participate, hosting an open house at their listing at 136 Main Street (see the listing) as well as handing out candy to those adorable skeletons, goblins, witches, super heroes and Disney princesses!
Owner of Southland Realty, Maxine Williams Bahr and Broker in Charge, Jonathan Smith were so impressed with the Black Knights Wrestling Team during the Lake Santeetlah Clean Up as well as their successes on the mat, Southland Realty made a large donation to the group to offset many of their expenses.  Also in attendance was Mark Rogers, of Moonshiners fame, loaned his skills for the three cash drawings for the adults Southland Realty had also contributed.
Smiles abounded as the costumed kids played and visited the decorated trunks of the volunteers to collect handfuls of coveted Halloween candy!  Thank you to the volunteers who made this event a huge success.