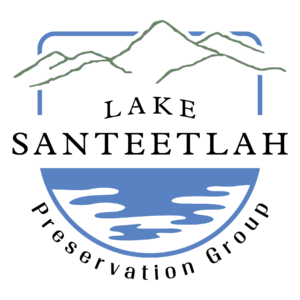 The Lake Santeetlah Preservation Group is a nonprofit, community-driven organization dedicated to protecting and preserving the ecology of Lake Santeetlah, its tributaries and watershed through advocacy and program development.
On Saturday, September 24, 2022 the group supported a clean-up on Lake Santeetlah.  Around 80 volunteers gathered at Cheoah Beach and Massey Branch.to clean up shoreline.  Volunteers spent time cleaning up remote parts of the lake from the private boat armada that had been organized by Randall Veal, a Lake Santeetlah Preservation Group board member.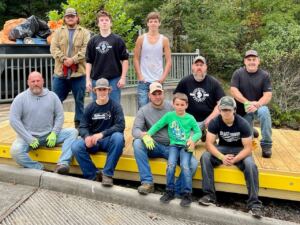 "One of our most valuable resources here in Graham County is our waters," says Maxine Williams Bahr with Southland Realty as well as co-founder of the Lake Santeetlah Preservation Group. "Not only is it beneficial from an environmental standpoint, but also for recreation, for tourism, therefore most importantly for the economy. If the lakes, rivers, and streams are beautiful and clean, then it's really a benefit for all of us."
The Lake Santeetlah Preservation Group partnered with businesses and local organizations that facilitate this volunteerism and connect those who want to come together to make a positive difference in the health of our lake. Partners included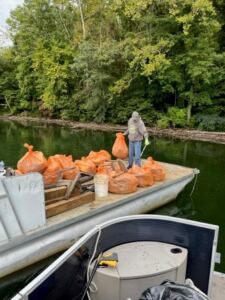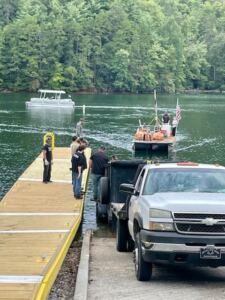 Robbinsville Black Knight Wrestlers and their Coaches, Phillips and Jordan, Herve Cody Contractor, Santeetlah Marina, Brookfield Renewable Energy, Graham County Commissioners, the United States Forest Service, North Carolina Wildlife Resources Commission, Cody Law Firm, Lovin Equipment & Sales, Blue Waters Mountain Lodge and Smoky Mountain Kayak Fishing Guide Service.
Life is beautiful when you appreciate others, especially those who volunteer to help. The Lake Santeetlah Preservation Group's Board of Directors would like to acknowledge several members of our community that went above and beyond.   Edd Satterfield, Chris Waldroup, Tony Millsaps and Jared Schuster, we thank you and appreciate your extraordinary efforts.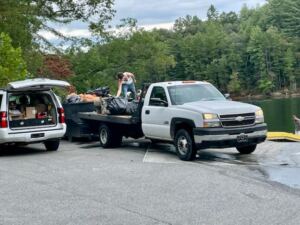 As a co-founder of the group, Avis Phillips with Phillips and Jordan generously provided heavy duty disposable gloves to protect the volunteers, as well as a wonderful bagged lunch to keep them fueled up as they picked up and removed almost 6,000 pounds of trash.
"It is the small things that can make one large impact," says Williams Bahr.  "If we're all doing something, it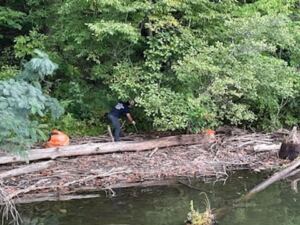 may not seem like a big thing, but when it all comes together it really makes a difference."
Lake Santeetlah Preservation Group is always working to make our lake the center of our community, and these volunteer events can have far-reaching benefits for the health and wellness of both our lake and the people that live, work, and play around it. A huge thank you to our volunteers and partners for their dedication to our lake and being a part of Volunteer Day!
For information on making a donation or volunteering for the next event, please contact Southland Realty 828-479-3991.