Almost every dorm room has similarities: they never have enough space, there are restrictions on how much you will be allowed to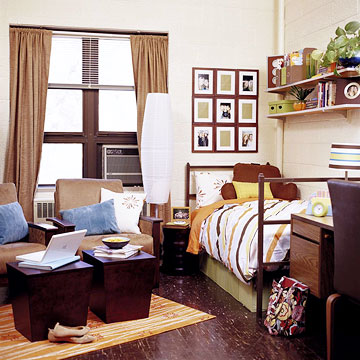 customize and it needs to be multi-functional. This does not mean your dorm room has to be boring! It is a place that you bill be spending a lot of time, so you need to enjoy your surroundings. We have some tips for making the most of your home-away-from-home.
1. Not A Lot Of Space. The area needs to serve as your bedroom, living room, kitchen, closet and library. Organization is crucial and you must think creatively by using under your bed and above your closet and the back of your door cleverly. Consider investing in some storage boxes, so you can stash your clutter fashionably.
2. It's Your Space! Remember you will be spending a lot of time in your room.  It is essential that you make it somewhere you want to be.  Customize your bedding and do not forget to add art that you love. Remember to bring plenty of framed photos of family and friends to help keeping homesickness away
3. Remember The Restrictions. A lot schools will actually charge you damages if you do not follow their decorating rules. 3M has a lot of products that do not leave blemishes on the walls! Use their picture hangers for frames, hooks to hang lights or to act as impromptu storage and remember that wall decals are also a great option.
4. Creativity. Washi tape seems to be everywhere on the internet. This paper-type tape is easy to use and (more importantly) easy to remove. From decorating bland doors to creating easy frames, this product is versatile enough to be used throughout your room, but cool enough to still make an impact.
5. What Did Other Do? Particularly for your first year, it's hard to know what you should and shouldn't bring with you to school. Everyone has a different opinion and different advice, so ask around! Your experience will be unique, but you can definitely pick up some gems of knowledge by asking older friends and family